ALBERT JACOB THEWALT
Mike Wald mentions these steins in his HR book: "Just to confuse matters, some of the steins made by Albert Jacob Thewalt carried an HR in ink on the base of the stein. This appears along with the early Thewalt triangle mark. I believe this was just the signature of the decorator of that stein and in no way ties in with those made by Hauber & Reuther."
By 1990, Mike had changed his mind: "Recently Ron Fox and I had the occasion to examine one of these Thewalt pieces closely. We discovered that we were looking at a completed Thewalt stein finished in green and cream and then painted over in full color by Hauber & Reuther."
~~~~~~~
COMPARISON OF ORIGINAL & HR DECORATED VERSIONS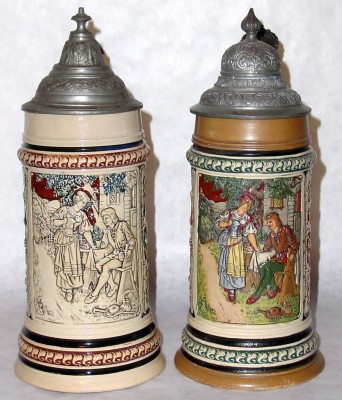 THEWALT MODEL NUMBER 94
These steins were all originally ivory colored with green and/or brownish-red trim, and each of the steins I show here have a section left in the original color. They were evidently purchased by Hauber & Reuther where they were turned into these very attractive, full color pieces.
According to Albert Jacob Thewalt, the first three years the company was in business, 1894, 95 and 96, they only produced stoneware items for medical and pharmaceutical use. The first Thewalt beer steins were produced in 1897. Mike Wald had copies of Thewalt factory records showing that they sold steins to Hauber & Reuther between 1898 and 1907, yet all of these steins carry the "so called" 1893-1896 triangle logo seen here with an HR "type 5" decorator mark. At the 2000, SCI Convention in Houston Texas, Albert Thewalt told me that this early factory logo was actually used well into the 20th century. As I have never seen an HR decorated Thewalt stein with other than this mark, I must assume this early logo was used at least until 1907. All of you who have Thewalt steins you thought were manufactured between 1893 and 1896 must adjust your thinking and now date those steins from 1897 to at least 1907 and possibly 1914 when the export market went away and Thewalt suspended stein production due to the First World War.
THE TYPE 5 MARK
(DECORATING MARK, NOT A FACTORY LOGO)
Type 5 - hand inked: The "type 5" mark was used on all steins decorated in Freising, OVER PREVIOUSLY APPLIED DECOR, whether they were manufactured there, or not. Note that on this mark, the top of the "R" extends over and beyond the right hand upright of the "H." This stein carries the Thewalt early logo and the "type 5" decorator mark. Just below, with the same markings, is the largest HR decorated Thewalt stein reported to date, a 3.0 liter, model number 200.
THE TYPE 6 MARK
(DECORATING MARK, NOT A FACTORY LOGO)
Type 6 - rubber stamped: These "type 6" marks were stamped on. They were used in exactly the same manner as the "type 5" mark. It is my belief that when Hauber & Reuther used these rubberstamped marks, they were no longer actually producing steins and for whatever time they had left, they were simply a finishing shop. If my belief is correct, production at the Freising factory ended sometime between 1898 and 1907. This stein carries the Thewalt early logo and the "type 6" decorator mark.
THE TYPE 7 MARK


HR/Thewalt Type 7
More than ten years after it was discontinued at the Freising factory, the "type 1a" HR logo suddenly reappears on a small number of steins manufactured by A. J. Thewalt.
To date, two model numbers, 600 and 601, have been recorded both in ivory stoneware.
There is a third piece in blue and grey salt glaze, without a model number, but with the HR logo. It has a body identical to #600 but has a different handle that is attached 90 degrees around the body from the handle attachment point on the previous piece. Thewalt reissued this stein in the 1960s or 70s with a slightly different mermaid handle.
Even though this is a "type 1a" logo, it was reactivated on steins manufactured by a factory other than Freising and therefore I've given it the new designation of "type 7."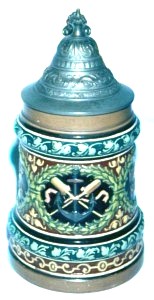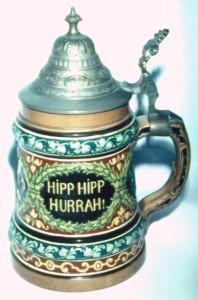 HR/THEWALT MODEL NUMBER 600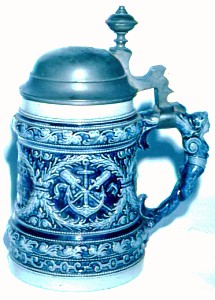 HR/THEWALT MODEL NUMBER NMN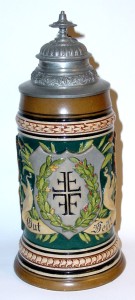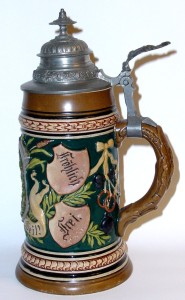 HR/THEWALT MODEL NUMBER 601
~~~~~~~
TABLE OF CONTENTS | FREISING/HR CHARACTER STEINS