FREISING/HR MANUFACTURED
CHARACTER STEINS
Back in 1980 when Mike Wald published his book "HR Steins" he listed only six character steins. Today, we can attribute fifity-one varieties of twenty-five different models to the Freising factory and twenty of those varieties are marked "HR." If you count the LB&C and Theodor Wieseler steins the total number of varieties attributable to Freising comes to sixty-two (so far). The Freising factory produced blue and grey stoneware from 1876 to 1886, but only the last four years, 1882-1886, were as Hauber & Reuther. With only one exception, a #64 owl in porcelain, all HR character steins are made of steinzeug.
Sometime between 1882 and 1886, Hauber & Reuther over painted earlier saltglazed pieces in full color. So far there are eight different reported, with multiples of some. When the earlier pieces were over painted they were marked with the "type 5" HR decorator's mark and were given a new decor/model number. These are counted as a separate variety. For example, Freising model number 97 is a blue, purple, and grey saltglazed "rich man" (?). The full color variety, in addition to the original number, is marked with an inked on HR and a #35 decor/model number. Both numbers, 35 and 97 are listed, and are counted as two separate varieties.
ANIMALS
| | | | |
| --- | --- | --- | --- |
| FR 54/HR 32 (BG fc nb) | FR 54 (BG nb) | FR 54 (BG rb) | HR 54 (BG rb) |
| | | |
| --- | --- | --- |
| FR 58 (BG) | FR NMN (BG) | HR Model 305 (BG) |
ATHLETICS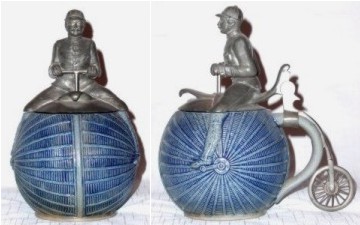 HR NMN (BG)
BIRDS
| | | |
| --- | --- | --- |
| FR NMN (BG) | HR 64 (BG) | HR 64 (P) |
FIGURALS
| | | | |
| --- | --- | --- | --- |
| FR 52 (BG) | FR 55 (BG v.1) | FR 55/HR 48 (BG fc) | FR 55 (BG v.2) |
| | | | |
| --- | --- | --- | --- |
| FR 55 (BG v.3) | FR 56 (BG) | FR 57 (BG) | FR 57/HR 49 (BG fc) |
| | | | |
| --- | --- | --- | --- |
| FR 97 (BG) | FR 97/HR 35 (BG fc) | FR NMN (BG) | FR NMN (BG) |
| | | | |
| --- | --- | --- | --- |
| FR NMN (BG) | FR NMN (BG) | HR 63 (BG) | FR 139(BG) |
| | | | |
| --- | --- | --- | --- |
| HR NMN (BG v.1) | HR NMN (BG v.2) | HR NMN (BG v.3) | HR NMN (BG v.4) |
| | | | |
| --- | --- | --- | --- |
| FR 223 (BG) | FR 223 (BG) | FR 224 (BG) | FR/HR Model 224 (BG) |
JESTERS/CLOWNS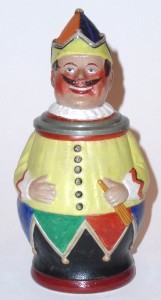 FR 53/HR 44 (BG fc)
MONKS & NUNS
| | | | |
| --- | --- | --- | --- |
| FR 50 (BG v.1) | FR 50 (BG v.2) | FR 50 (BG v.3) | FR 51 (BG) |
| | | | |
| --- | --- | --- | --- |
| FR 51/HR 33 (BG fc) | FR 59 (BG) | FR 59/HR 54 (BG fc) | FR 60 (BG v.1) |
| | | | |
| --- | --- | --- | --- |
| FR 60 (BG v.2) | FR 60 (BG v.3) | FR/HR 61 (BG v.1) | FR 61 (BG v.2) |
| | | |
| --- | --- | --- |
| FR 61 (BG v.3) | FR 112 (BG) | FR 112/HR 14 (BG fc) |
TOWERS
| | | | |
| --- | --- | --- | --- |
| FR NMN (BG) | HR NMN (BG) | HR NMN (BG) | HR NMN (BG) |
LB&C
| | | | |
| --- | --- | --- | --- |
| LB&C NMN (BG) | LB&C NMN (BG) | LB&C NMN (BG) | LB&C NMN (BG) |
| | | | |
| --- | --- | --- | --- |
| LB&C NMN (BG) | LB&C NMN (BG) | LB&C NMN (BG fc) | LB&C NMN (BG fc) |
TW - THEODOR WIESELER
| | | | |
| --- | --- | --- | --- |
| T.W. NMN (BG) | T.W. NMN (BG) | T.W. NMN (BG) | T.W. NMN (BG) |
TABLE OF CONTENTS | CUSTOM ORDERED PAINTINGS